About Omar Haddo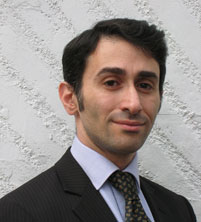 Omar Haddo is a consultant orthopaedic surgeon who specialises in shoulder, upper limb and trauma surgery. His skills include arthroscopic surgery for the shoulder and elbow and also shoulder resurfacing arthroplasty.
Omar studied medicine at St Bartholomew's Hospital Medical School, London , graduating in 1996. He undertook a BSc in Clinical Sciences at St Mary's Hospital, London in 1995. He was appointed to the Stanmore Orthopaedic Training Programme in 2002. During this time he experienced various aspects of orthopaedics including peripheral nerve repair, paediatric orthopaedics and bone tumour surgery at Great Ormond Street Children's Hospital and the Royal National Orthopaedics Hospital.
His interest in shoulders and upper limb surgery was honed at the internationally renowned Reading Shoulder Unit.
Omar Haddo is a member of the British Orthopaedic Association and has published a wide variety of scientific papers and book chapters over the last 10 years. He has presented at many national and international meetings and is heavily involved in teaching. He has been a faculty member on various orthopaedic and shoulder courses.
He currently holds an NHS appointment at the Whittington Hospital, and Private Practices at the Princess Grace Hospital, Wellington Hospital and Highgate Hospital in London.
Links:
http://www.thewellingtonshoulderunit.com/team.asp#n3
http://www.theprincessgracehospital.com/consultant.aspx?consultant=HADOM
http://www.londonshoulderandelbow.co.uk/consultant-details.php?consultant=HADOM